Eduardo Gonzalez, Engineer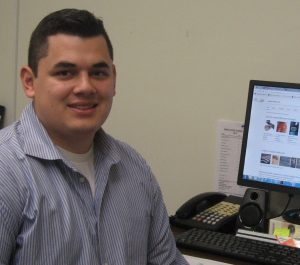 Mr. Gonzalez received a Master Degree of Science in Civil Engineering in 2016 from Norwich University. He has been employed with James J. Hahn Engineering P.C. from April 2017 to the present.
Mr. Gonzalez works with municipal and private entities on all aspects of site development, including zoning, site layout, stormwater, wastewater, potable water and site plan reviews.
Mr. Gonzalez has experience with various engineering software application, including AutoCAD, HydroCAD, ArcGIS and Matlab, which he has used to perform hydraulic modeling. This includes work on various drainage designs for municipalities in Westchester County.
His experience also includes working in conjunction with the federal, provincial, state, and local regulations to resolve various issues such as sewer relocation design and project specification creation.
Mr. Gonzalez has worked on wastewater and hydrological projects under the supervision of our company's New York State Licensed Professional Engineers. The general scope of the projects Mr. Gonzalez has worked on, encompasses the designs of sanitary sewers, UV Disinfection Systems, and pump stations.
Earlier Experience:
Mr. Gonzalez's early experience comprised of Logistics and General Contracting. Mr. Gonzalez was formerly Director of Logistics for a $30,000,000.00 e-commerce company based out of Manhattan, N.Y. He managed and oversaw the logistic's team which headquarterd in New Jersey, New Hampshire, and abroad in Europe and Asia.
Mr. Gonzalez also has General Contracting experience in Westchester County and New York City Metro area. His work included structural framing, masonry, heating and plumbing, and electrical. He managed and worked on residential and small commercial retrofit projects.