George E. Pommer P.E., Vice President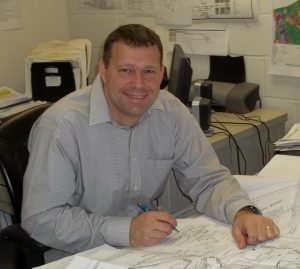 Mr. Pommer received a Bachelor of Science in Civil Engineering in 1991 from Manhattan College and has been employed by James J. Hahn Engineering, P.C. from December 1991 to present. Mr. Pommer is currently licensed in New York and Connecticut as a Professional Engineer.
Mr. Pommer is currently a project manager and is involved with various design and construction projects. Design experience includes sewer treatment systems, water treatment systems, pumping facilities, water storage, drainage, and irrigation systems. Construction experience includes buildings, roads, parking facilities, athletic fields, water and wastewater treatment facilities, pumping stations, water storage facilities, vehicular and pedestrian bridges.
Other work experience includes feasibility studies, design analysis and cost estimating for various municipal projects. Work includes sewage treatment upgrades, water storage and distribution system upgrades, salt sheds, pavilions, painting projects, composting facilities, and emergency power projects. Field experience includes inspection of water main installations, roadway construction, water treatment pilot plant operation and soil borings.
Other responsibilities include attending Municipal Planning Board meetings as a representative for the owner. Mr. Pommer has also reviewed site plans for Municipal Planning Boards for conformance to Federal, State, County and Town Codes.
Mr. Pommer has also been involved with construction managing new building construction, building modifications and municipal infrastructure related projects. Work tasks include organizing meetings, monitoring progress of work, processing Contractor payments, resolving project issues and processing shop drawings.
Mr. Pommer is a member of the National Society of Professional Engineers, American Water Works Association, and is a New York State Certified Class D Water Operator.