Miguel Roche, Project Inspector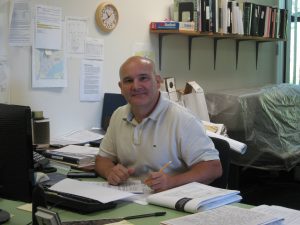 Miguel Roche has over 25 years of successful management and leadership experience within both military and civilian sectors. He is a dedicated professional who excels at developing and leading personnel as well as managing multiple projects.
At James J. Hahn Engineering, P.C. his responsibilities include reviewing plans/drawings for compliance with specifications, regulations, contractor's schedule, safety standards and regulations, approved working drawings, trade industry quality standards and codes. Additional responsibilities include Quality Control Management by performing construction site stormwater inspections for compliance to NYSDEC Phase II Stormwater Guidelines and Sediment/Erosion Control Measures.
Prior to joining James J. Hahn Engineering, P.C., Mr. Roche was employed for over 18 years as a Local Manager with Verizon Communications where he lead diverse teams of technicians who installed, repaired and maintained voice, data and video communications for residential and business customers. He was responsible for all aspects of supervising the continued development and performance of groups ranging in size from 15-30 employees. Among his daily responsibilities were the setting and monitoring of performance objectives, establishing daily and weekly work assignments, conducting quality and safety inspections, providing coaching and mentoring, and conflict resolution.
Mr. Roche's military experience includes 25 years of total service in the United States Marine Corps and Marine Corps Reserve. He retired in 2011 with the rank of Master Sergeant.
Mr. Roche has a Bachelors Degree from Fordham University.