Douglas J. Hahn P.E., CPSWQ, Project Engineer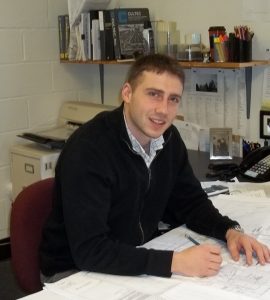 Mr. Hahn received a Bachelor of Science in Civil Engineering in 2005 from Manhattan College and was employed by a construction management / engineering company from June 2005 to April 2007. He has been employed with James J. Hahn Engineering, P.C. from April 2007 to the present. In May of 2008, he received his Masters of Science in Civil Engineering from Manhattan College. Mr. Hahn has been a Licensed Professional Engineer since January 2010. He is currently a project engineer and construction administrator and works on both design and construction projects.
Mr. Hahn worked on the design of the stormwater practices for Gedney Park and Amsterdam Park in the Town of New Castle for three soccer fields, parking lots, and a comfort station. The stormwater practices complied with the NYSDEC requirements and included a pocket pond and infiltration practices.
Mr. Hahn worked as an inspector and construction administrator on Croton Landing Park, Amsterdam Park and has assisted with other fields throughout his tenure with James J. Hahn Engineering, P.C. Croton Landing is a park along the Hudson River which included a 3/4 mile bike path, soccer field, comfort station, stormwater ponds, and shore stabilization.
In addition to design and construction administration, Mr. Hahn has also reviewed the design of athletic fields, including Mercy College's Athletic Field and the Master's School Athletic Field.
Mr. Hahn was employed with a construction management company after graduating in 2005. During that time, he worked as an assistant construction manager, on the Ossining Public Library and Sleepy Hollow High School / Middle School. The Ossining Library was $30 million dollars and had 13 prime contractors. The Sleepy Hollow High School was $60 million dollars and had 16 prime contractors. Both projects had major site construction which included large stormwater practices, retaining walls, grading, drainage, utilities, and roadways.