Frank D. Annunziata P.E., CPESC, CPSWQ, PM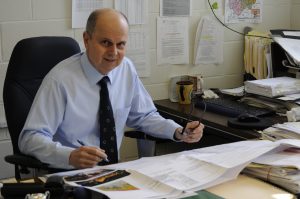 Mr. Annunziata is a Project Manager with James J. Hahn Engineering, PC. and has over 36 years experience in civil and environmental engineering projects.
Mr. Annunziata reviews projects for the Towns of Bedford and North Salem on development proposals within their purview, particularly in regards to Phase II Stormwater Regulations. He also provides guidance to these municipalities to assist them in complying with MS4 Stormwater requirements and is involved with infrastructure improvements. The most recent project included the West View Cross Road Water Quality Improvement Project in the Town of North Salem. This project involved the construction of regenerative stormwater conveyances that resulted in over 7 kg/yr of phosphorus reduction credit to the municipality.
Prior to joining James J. Hahn Engineering, P.C., Mr. Annunziata was the Town Engineer for the Town of New Castle in Westchester County for 20 years. He was involved in the development and implementation of the Town Master Plan, steep slopes, wetlands, tree protection, environmental overlay and floor area ratio regulations. As the Town's Stormwater Management Officer, Mr. Annunziata led the Town's efforts to comply with the Phase II Stormwater Management Requirements including the development of new regulations and practices. Mr. Annunziata was responsible for many infrastructure improvement projects including the Hawkes Avenue reconstruction, Chappaqua Train Station Commuter Parking Lot expansion, Department of Public Works Salt Dome, Armonk Road Watermain Extension, Breevort Road Sewer District Expansion and Main Extension and several sidewalk projects including King Street, Quaker Road and Millwood Phases I, II and III.
Prior to working for the Town of New Castle, Mr. Annunziata was a Senior Engineer for the Westchester County Department of Health where he was involved with the public water supply, swimming pool, bathing beach, and air pollution control programs.
Mr. Annunziata received a Bachelor of Engineering Degree in Civil Engineering from Manhattan College and is a New York State Licensed Professional Engineer, a Certified Professional in Erosion and Sedimentation Control, and a Certified Professional in Stormwater Quality.