Ken Shimizu, Chief Designer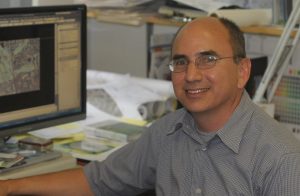 Mr. Shimizu received a Bachelor of Arts in Geology from State University College, S.U.N.Y., Plattsburgh, 1982. Employed by James J. Hahn Engineering, P.C. from September, 1985 to present, Mr. Shimizu has 30 years of experience in the design municipal, commercial, and residential projects.
Mr. Shimizu has been involved in the design of realty subdivisions; commercial and residential building sites; urban streetscapes; water distribution and water filtration/treatment facilities; sanitary sewerage systems, including collection systems, pumping stations, treatment facilities, and septic systems; stormwater facilities, including collection systems, treatment practices and retrofits; parks and recreational facilities, including athletic fields, tennis courts, swimming pools, and shared-use paths; roadways; sidewalks; parking areas; site grading; and erosion control measures.
Mr. Shimizu has expertise in computer-aided design, GIS based digital mapping, and preparation of construction drawings, reports, and specifications.
Major Design Projects
Bedford Water Filtration Plant & 12" Transmission Main, Bedford, NY
Katonah Well U.S.E.P.A. Remediation, Bedford, NY
Quaker Street Pedestrian Path Improvement Project, New Castle, NY
Route 9 Sideewalk Project, Sleepy Hollow, NY
Croton Falls Improvement Project, North Salem, NY
Crosby Hill 49 Lot Subdivision, Southeast, NY
Amsterdam Park Athletic Fields, New Castle, NY
Croton Landing Riverwalk & Athletic Field,Croton-on-Hudson, NY