Paul Volpicelli, Senior Project Inspector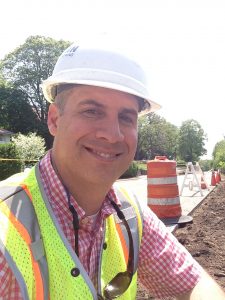 Mr. Volpicelli has worked at James J. Hahn Engineering, P.C. since October 2003 and has performed municipal site inspections for the Town of Bedford, Town of North Salem, Villages of Sleepy Hollow, Dobbs Ferry, Irvington, and Buchanan. Mr. Volpicelli has been performing construction inspection and administration services since 1999.
His experience with James J. Hahn Engineering, P.C. includes roadway improvements, streetscape projects requiring compliance with New York State Department of Transportation Standard Specifications, construction of recreation fields and facilities and municipal water distribution system improvements that comply with state and local regulations.
Mr. Volpicelli's regular project responsibilities include maintaining project schedules and budgets, daily logs in accordance with the Manual of Uniform Record Keeping, performing Davis-Bacon employee interviews, reviewing certified payrolls and verifying quantities for payment requisitions. He also reviews record drawings and "As-Built" plans and inspects stormwater pollution prevention measures in accordance with New York State Department of Environmental Conservation regulations.
Mr. Volpicelli is a Level II Certified Highway Construction Inspector, under the National Institute for Certification in Engineering Technologies, recently completed his 4-hour training for compliance with the NY-SPDES General Permit for Stormwater Discharges from Construction Activity and is OSHA certified for confined spaces. Mr. Volpicelli received a Bachelor of Science in 1998 from the University of Maryland. From 1999 through 2003 Mr. Volpicelli's work concentrated on field supervision of commercial and institutional construction such as a $2 million office renovation of an international headquarters in White Plains, NY.