William Angiolillo P.E., Engineer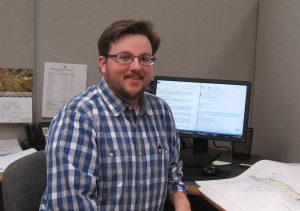 Mr. Angiolillo has joined the team at James J. Hahn Engineering, P.C. in 2017. He earned his Bachelor's Degree in Civil and Environmental Engineering and Master's Degree in Civil Engineering from Villanova University. Mr. Angiolillo is a licensed Professional Engineer in the State of New York.
Mr. Angiolillo is experience with the design of sanitary sewer systems. He has designed a replacement sanitary sewer pump station in the Village of Buchanan. There an aging pump station required replacement. The new station consists of a wet well with submersible pumps, valve camber, and control building. The system is designed to be compliant with the Westchester County Department of Health (WCDOH) requirements and Ten-State Standards.
Mr. Angiolillo has also developed a conceptual design for a new sanitary system for the hamlet of Croton Falls in the Town of North Salem. The hamlet is currently served by subsurface disposal and is no longer in compliance with NYC DEP requirements. The conceptual plan collects the entire hamlet by gravity sewer mains to a pump station and then discharges to the Heritage Hills Waste Water Treatment Plant located in the Town of Somers. More than 1.5 miles of force main will be required, portions of which will be located under State highways. The project is currently seeking funding and being coordinated with the NYC DEP.
Mr. Angiolillo is also conversant with the NYSDEC Stormwater Management Design Manual and SPDES permit, and the NYC DEP Watershed Regulations. Mr. Angiolillo has prepared stormwater pollution prevention plans (SWPPPs) and designed runoff controls in accordance with the SPDES General Permit and NYS Standards and Specifications for Erosion and Sediment Control to prevent contamination of stormwater runoff and surrounding watercourses during construction. Additionally, Mr. Angiolillo has designed stormwater management practices and green infrastructure techniques for phosphorus reduction in stormwater runoff for projects located in the NYC DEP regulated East of Hudson Watershed.
Mr. Angiolillo is experienced working with clients to navigate projects through approval processes in various municipalities in Westchester, Rockland and Fairfield Counties and reviewing agencies such as WCDOH, NYSDEC, and NYC DEP. He is also experienced with coordinating the various design interests of architects, structural engineers, MEP engineers, landscape architects, and Owners. Additionally, Mr. Angiolillo is experienced with various engineering software including: HydroCAD, AutoCAD, and HEC-RAS. These programs are routinely used to design efficient and constructible projects.